Mayo v Cavan, Allianz League Division One, Round Five.
19/03/17. 2pm at MacHale Park.   
Referee Anthony Nolan.                            
Official Attendance: 8,565.
Off the back of a humbling defeat against what could be called a second string Dublin side in Croke Park, Mayo welcomed a Cavan side fighting relegation without win to their name to Castlebar.
The Mayo starting fifteen lined out as named in the match program, while Diarmuid O'Connor dropped off the bench to make way for Neil Douglas. Meanwhile, there was two changes on the Cavan team as Ciaran Brady and Paul O'Connor made way for Gerard Smith and Niall Murray respectively.
Mayo enjoyed a relatively successful opening thirty-five, kicking nine points and only three wides to Cavan's five points and eight wides. Right before the break, however, Cavan drew the gap back to a single point through a goal from Gearóid McKiernan.
Notable performers in the opening period of play were Danny Kirby, Conor O'Shea and Andy Moran for Mayo, who all scored two points from play. From a Cavan point of view, the obvious star man was Gearóid McKiernan – kicking 1-3, while centre-forward Dara McVeety put in a solid shift kicking two points from play.
A couple players who would have been disappointed with their display in the first half would have to be Cavan goalkeeper, Raymond Galligan, who started the game with a couple of misplaced goalkicks, and remaining quite inconsistent with them throughout the half, misplacing three of the following five.
From a Mayo Perspective, Cillian O'Connor, usually a star turn and the team's talisman, put in a sub-par  performance by his own high standards, having little involvement in the game aside from a missed forty-five.
In the second half, it was Cavan who had greater joy. They proved to be far more clinical than they had been in the first half and a solid defense caused Mayo to use a lot of lateral handpassing, particularly around Cavan's forty-five, and more often than not, turning them over. Raymond Galligan, in the Cavan goal, also seen an upturn in his fortunes after the break, landing his first five kickouts.
Cavan's 1-14 to 0-15 victory sees them make ground on their hosts, Mayo, who have seemingly been drawn into a relegation battle.
The candidates for my man of the match award are Mayo's Danny Kirby and Cavan's Gearóid McKiernan, Tomas Corr and Dara McVeety. In the end there could only be one winner has midfielder took the award with his superb performance, scoring a crucial, game changing goal, and, five more points.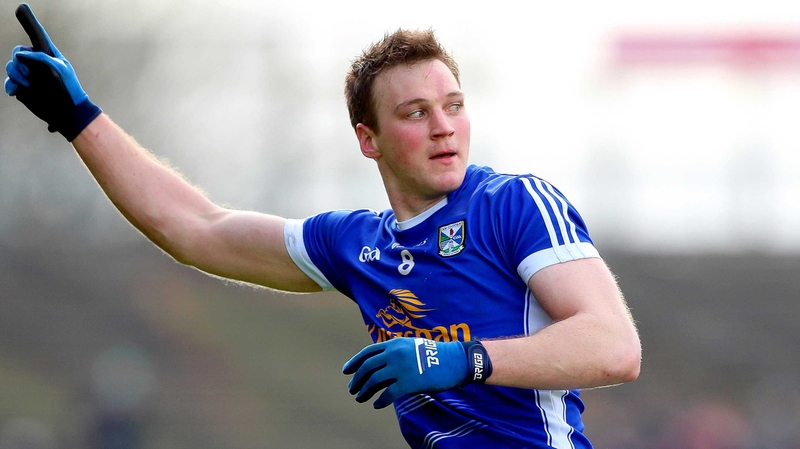 Scorers
Mayo
Lee Keegan (0-2), Tom Parsons (0-1), Danny Kirby (0-4), Fergal Boland (0-1), Conor O'Shea (0-2), Kevin McLoughlin (0-1f), Andy Moran (0-3), Shane Nally (0-1).
Cavan
Rory Dunne (0-1), Gearóid McKiernan (1-5, 3f), Tomas Corr (0-2), Martin Reilly (0-1), Dara McVeety (0-4), Conor Madden (0-1).
Player Ratings
Mayo
1. David Clarke 7
2. Brendan Harrisson 6  3. Keith Higgins 4  4. Patrick Durcan 5
5. Colm Boyle 5   6. Lee Keegan 6   7. Donal Vaughan 5
8. Tom Parsons 8   9. Danny Kirby 9
10. Fergal Boland 6   11. Cillian O'Connor 4    12. Conor O'Shea 6
13. Kevin McLoughlin 5  14. Andy Moran 6    15. Conor Loftus  5
Cavan
1. Raymond Galligan 6
2. Killian Brady 8  3. Rory Dunne 7  4. Jason McLoughlin 8
23. Gerard Smith 7  6. Killian Clarke 7   7. Conor Moynach 6
8. Gearóid McKiernan 10   9. Tomas Corr 9
10. Martin Reilly 7   11. Dara McVeety 8    12. Niall Clerkin 6
21. Niall Murray 6  14. Conor Madden 6    15. Sean Johnston  6
Statistics
Scores From Play/Dead Ball
Mayo 0-14/0-1  Cavan 1-11/0-3
Wides From Play/Dead Ball
Mayo 6/2  Cavan 10/0
Own Kickouts Won/Lost
Mayo 18/2  Cavan 14/7
Cards: Yellow, Red, Black
Mayo 1/0/0  Cavan 1/0/0